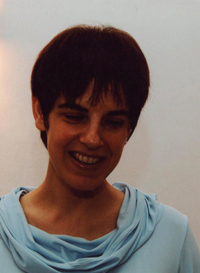 Naama Benziman. Illustrator.
Ten picture books. One feminist personal column. Various international Exhibitions.
Reads many books. Authored three, for children. Another one is forthcoming.
Lecturer on illustration. Studied Visual Literacy (summa cum laude). Once a week Iyengar Yoga.
Mother of two. Married to one. Born in Jerusalem. Lives in Tel aviv.
All work on this site is copyright of Naama Benziman.
Awards, exhibitions and publications:
2021: Israeli Education Ministry List of Recommended Books.
2020: Silver Medal, The Israel Museum Award for Illustrations of a Children's Book.
2020: American Illustration 39.
2019: Merit Award, 3×3 Illustration Annual No. 16.
2018: IBBY Honour Citation (Andersen Children's books Honour List).
2018: Honorable Mention, 3×3 Illustration Annual No. 15.
2018: 100 Posters for human rights, limited edition, 4Tomorrow.
2018: The Hebrews Project, Jewish Museum Berlin.
2018: CIA emerging and established artist award.
2018: 20 Years to Periscope Gallery exhibition.
2017: Merit Award, Little Hakka International Picture Book Competition.
2017: One for all, all for one, OHCHR, Poster for tomorrow and La Mairie de Paris.
2017: We Hereby Declare. 2016 Ministry of Culture Awards for Visual Art and Design, MoBY – Museums of Bat Yam.
2016: Art and Design Award, Ministry of Culture, Israel.
2016: Online juror, Poster for Tomorrow International Contest.
2016: 'Ideas on Paper', Beijing Design Week.
2016: Silver Medal, The Israel Museum Award for Illustrations of a Children's Book.
2016: 'What big eyes you have', Royal Beach, Tel Aviv Illustration Week.
2016: Honorable Mention, 3×3 Illustration Annual No. 13.
2016: 'Behind Every Woman' – Solo Exhibition, Periscope Gallery, Tel Aviv.
2015: Merit Award, Hiii Illustration International Competition.
2015: The Cheltenham Illustration Awards Annual.
2015: 'Order and Disorder', International Children's Book Festival, Nami Island, korea.
2015: Curator of the exhibition 'More Black than Round', Benyamini Contemporary Ceramics Center, Tel Aviv.
2015: 'A Decade without Dudu Geva', Vitrina Gallery, HIT, Holon.
2015: Honorable Mention, 3×3 Illustration Annual No. 12.
2014: Honorable Mention, 3×3 Illustration Annual No. 11.
2014: Online juror, Poster for Tomorrow International Contest.
2014: Curator of the exhibition 'Ceci n'est pas une assiette', Benyamini Contemporary Ceramics Center, Tel Aviv.
2014: 'The Illustrated Version', Illustrating Israeli Culture, The Eretz Israel Museum, Tel Aviv.
2014: 'Games At The Design Museum', Design Museum, Holon.
2014: Curator of the exhibition 'It Begins With a Children's Story', The Israeli Design Center, Holon Mediatheque.
2014: Curator of the exhibition 'Pop-Up Library', co-curated with Luka Or, Holon Design Week, HIT, Holon.
2014: 'Dolls Art', The Jaffa Museum of Antiquities.
2014: 'I'm From Here', Localism In Israeli Picture Books, Beit Ariela, Tel Aviv.
2014: Curator of the exhibition 'Transparent Authors (Yaldei Ha-Khol), Tales From Ethiopia, Illustrations From Israel ', Vitrina gallery, HIT, Holon and The Ministry of Immigrant Absorption, Jerusalem.
2014: 'Books From Israel', The Bologna Book Fair, Italy.
2014-2013: 'Whales and Blue Hair, The Illustrative Imagination of Israel', Venice and Bologna, Italy.
2013: A Home for Everyone, Poster for Tomorrow.
2013: Harama, An Online Journal of contemporary art, special issue on Homework. 2013: 'Temperament', Hanina Contemporary Art, Tel Aviv.
2013: '100 Books, 200 Book Covers', Design Terminal, Bat Yam.
2012: Drawing Dreams Foundation's benefit at New York's Society of Illustrators. 2012: 'Journey Among Dreams', The Jaffa Museum of Antiquities.
2012: Curator of the exhibition 'Little Red Riding Hood Wears a Digital Hat', Holon Design Week, HIT, Holon.
2012: Creative Quarterly 27 Online Gallery, co designed with Ido Raz.
2011: The Right to Education, Poster for Tomorrow in partnership with UNESCO, co designed with Ido Raz.
2011: 'Designed in Israel 2011: The Best Design Works in Israel 2011' group show, Design Museum, Holon.
2010: Drawing Dreams' Artists Helping Children on-line gallery.
2010: 'Designed in Israel 2010: The Best Design Works in Israel 2009-10' group show, Tel Aviv.
2006-2009: 'ISRAILLUSTRATORS' – Israel's finest picture book illustrators, a traveling exhibition of 15 Israeli illustrators selected by the Israel Ministry of Foreign Affairs. 2009: 'Gaungzhou Design Week 09', China.
2009: Curator of the exhibition 'Illustrating Agnon', Agnon House, Jerusalem.
2009: Curator of the exhibition 'Illustrations Telling a Story', The Israeli Design Center, Holon Mediatheque.
2008: 'Innovation Design Tech EXPO 08', Hong Kong.
2008: 'Designed in Israel 2008: The Best Design Works in Israel 2007-8' group show, Tel Aviv.
2007: 'Illustration: 2007' – Design Festival COW, The Ukraine.
2007: 'Best Posters – Israel's Independence Day' group show, Tel Aviv.
2007: 'Illustrations for Einayim Magazine' group show, Jerusalem International Book Fair
Resume – Click to dowload pdf file